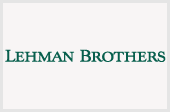 If you were wondering what happened to some of the art once owned by Lehman Brothers, you may find answers at Freeman's.
Freeman's auctioneers are to sell at auction the first part of the multi-million dollar art collection of the former global financial services firm, Lehman Brothers Holdings Inc. in Philadelphia during the Fall of 2009.
The collection for sale at Freeman's is valued at US$1 million and consists of a large selection of modern and contemporary paintings, prints and drawings, along with a smaller group of American and Fine European paintings and prints from Lehman offices in New York, Boston and Delaware.
Freeman's says significant works by Bernar Venet, Willie Cole, Arturo Herrera and Pouran Jinchi are included in the 650 lot collection. There are prints by Louis Lozowick, Roy Lichtenstein, Louis Bourgeouis and Terry Frost, photographs by Bernice Abott along with important paintings by Bernard Cathelin and Herbert Brandl. In addition, there is a large number of reasonably priced prints, drawings and paintings from standout artists of the latter half of the 20th Century. Freeman's will be selling the collection starting in the fall in Philadelphia with their "Modern & Contemporary Art" on November 1st, 2009 where it will feature as a 'single owner section'. This is followed by their "Fine American and European Paintings and Sculpture" December 6th, 2009 with the last items of the Collection being sold at "Works from the Lehman Brothers Collection: Part II" on February 12th, 2010.